Stranger in the Mushroom Patch
The fourth installment of the delightful adventure Mischief Series is now available
Excerpt From Stranger in the Mushroom Patch – Amanda M. Thrasher, This material is protected by copyright.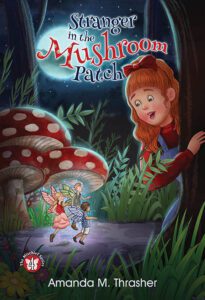 Monsieur Pierre caught a glimpse of Boris's arm in a midway forward motion in such a manner it could only mean one thing—a moss bomb was about to propel through the air toward a target, Jack. Boris and Jack's ongoing moss bomb war was notorious, but since The Fairy Games, specifically the Spider Web Scramble, Boris's quest to become the moss bomb champion was, no doubt, at his fingertips. Catching his star with his name etched on it and being pure of heart, Boris's wish had been granted. One wish—and of all things, he'd requested a never-ending supply of moss bombs! Having such a quantity of moss bombs on hand was becoming a problem. The situation was becoming detrimental. Everyone who found themselves in Boris's or Jack's vicinity got nailed. Anyone who had joined in the battle and found favor with Boris was well equipped with stinky moss bombs. Ivan and Zeraz were regular participants, and thanks to Boris, they never ran out of ammunition. No one was safe! Monsieur Pierre appeared out of nowhere and stood behind Boris as he released a slimy bomb. He grabbed Boris by the scruff of his neck, but it was too late. Boris, dangling a foot off the ground, watched his moss bomb rip through the air and splat all over Jack. Stinky slimy moss ran down the left side of Jack's temple. Though Jack should have been expecting an attack, he'd momentarily let his guard down, and the stinky moss bomb took him by surprise. The sting forced Jack to yelp out loud and jump right out of his chair. His eyes searched the room for Boris. Monsieur Pierre, though he dared not say it out loud, recognized the skill it took to pull off such a sneak attack while dangling in midair. As soon as Jack spotted Boris's predicament and realized Boris had managed such a hit, he mumbled a compliment under his breath. "Nice one, Boris."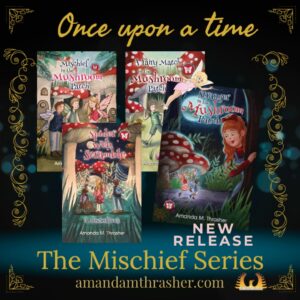 Boris, a good-sized fairy, looked down at the floor he no longer touched with his feet and was reminded that Monsieur Pierre was quite strong indeed. "How many times have you been told not to pelt moss bombs in the dining hall, Boris?" Boris shrugged his shoulders. He wasn't trying to be rude; he honestly had no idea how many times he'd been told not to do it. He hadn't been keeping up and was trying to calculate how many times it had actually been. "Whatever it is you're going to say, don't," Monsieur Pierre added as he set Boris back down on the ground with a loud thump. "I would confiscate them," Monsieur said as his eyes darted toward Boris's pocket, where another moss bomb had already appeared and was ready to go, "but we all know there's no point!"
Monsieur Pierre's eyes rolled so far back in his head, Boris wasn't sure if they'd return to their sockets properly and couldn't stop staring at him to find out. Fortunately, they popped back into place, though Boris did notice that Monsieur had turned the odd shade of purple that he typically turned when he was frustrated or angry with him. Admittedly, the odd shade made Boris feel slightly nervous.
"You and you; my 'shroom, now!" And then Monsieur disappeared. Sulkily Jack and Boris made their way to Monsieur Pierre's 'shroom. As they walked through the winding paths of the mushroom patch, they ran smack into Lilly."
Visit the Author's website: amandamthrasher.com Stranger in the Mushroom Patch