Spider Web Scramble Reviews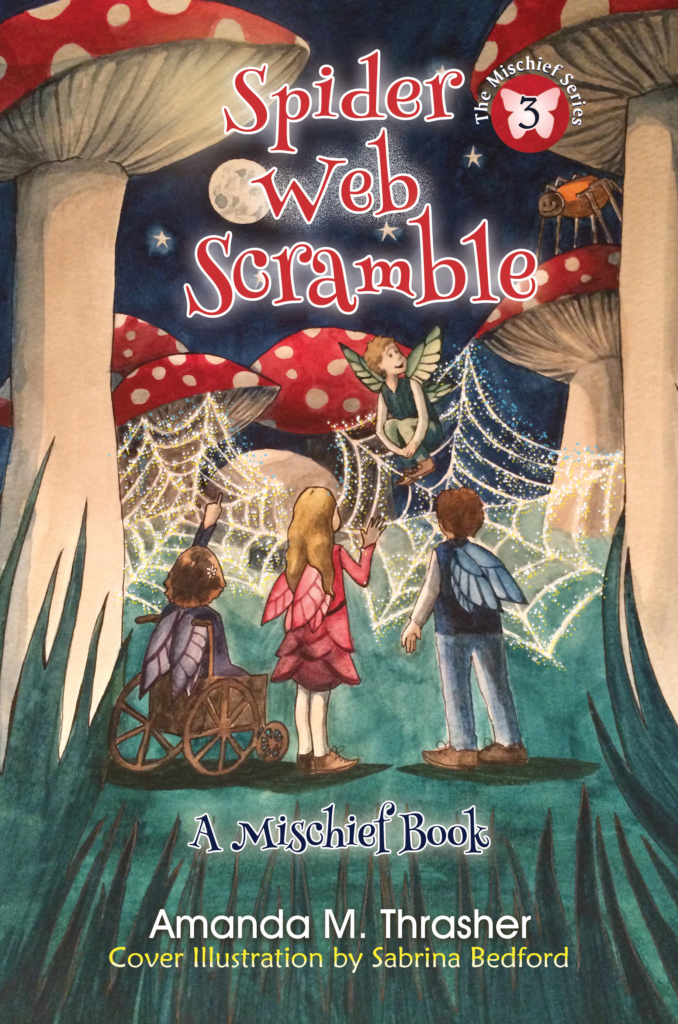 Reviewed By Jack Magnus for Readers' Favorite
Spider Web Scramble: The Mischief Series, Book 2 is a fantasy novel for children and preteens written by Amanda M. Thrasher. The Mushroom Patch Games were fast approaching, and the fairlings were excited to be part of these most important web-jumping celebrations. They were amazed to hear that this year's games would be even more exciting and special. It was the third year and the fifth moon, and not only would the fairlings be jumping webs during the Spider Web Scramble, but they'd also be able to play with their own particular stars. And even better, the webs they were hopping would be infused with extra magic on that day and would be extra bouncy. Lily, Pearl and the rest of their friends were amazed at the thought of being able to touch a star, no less race with one, so they were listening with rapt attention as Monsieur Pierre explained exactly what they would have to do to get ready for their event. They would have to identify their star and then try to touch it. If they succeeded and were pure of heart, they'd receive a very special gift — a wish that would be granted.
Amanda M. Thrasher's fantasy novel for children and preteens, Spider Web Scramble: The Mischief Series, Book 2, is an enchanting and original tale about a secret place on earth where fairies and young fairlings live far from the prying eyes of human beings. I was particularly impressed with the theme of this book wherein a group of friends work together to help Pearl participate in the event. Pearl is confined to a chariot and was content with being on the sidelines, but her friends were having none of that. This marvelous tale shows how the friends become a team that could probably accomplish just about anything if they put their minds to it. I also enjoyed the feeling that somehow I had stumbled into a Hogwarts for fairies, which was a most pleasant surprise indeed. While I had not read the first book in Thrasher's The Mischief Series, I had a grand time reading Spider Web Scramble on its own, and I most highly recommend it.
Reviewed By Samantha Coville for Readers' Favorite
The Mushroom Patch is the home of the long awaited Spider Web Scramble. This exciting race takes place once every three years on a specific full moon and challenges fairies to complete the course. This year, the stars are joining in on the fun and finding the star etched with your name and proving you have a pure heart means you get one wish granted! Teamwork, friendship, and magic abound during this celebratory event, but not all is well in the Mushroom Patch. There's something wrong ahead, but the fairies won't be deterred. Or will they?
First off, Spider Web Scramble is actually the third book in The Mischief Series by Amanda M. Thrasher, but you can follow along just fine starting here, and you don't feel like you've missed anything too major. Although, after reading this creative and endearing tale, you may want to go back to the first two anyway! The childhood magic we all love so much seems to spill off the pages as the friendly, lovable little fairies work together to complete a race that puts our boring marathons to shame. And the descriptive passages here are masterfully written, bringing the Mushroom Patch to life and instantly pulling you into a colorful, magical world you'll want to visit. You can either have your child read this chapter book all on their own, as they will surely enjoy every page, or you could make this a bedtime ritual, reading a section every night and leaving your child anxiously awaiting the following part the next night. This is a wonderful tale that the whole family could enjoy together so gather round and read on!
Reviewed By Divine Zape for Readers' Favorite – https://readersfavorite.com/book-review/spider-web-scramble
Amanda M. Thrasher's Spider Web Scramble is an interesting third entry in the Mischief Series, a blend of fantasy and sci-fi for young readers. The Spider Web Scramble is held at the Mushroom Patch, located deep in the forest, an event that takes place on the fifth full moon of every third year. But on this particular occasion, the excitement of the fairies becomes even more powerful as they are informed that the stars will be coming down and that whoever could beat the clock and locate the star with their name on it will have their wishes granted. Only, there is a magic trap that no one knows about; the scene is set for a game that is as exciting as it can be dangerous.
Although Spider Web Scramble is written for young readers, it has lessons for adult readers as well. Readers will be introduced to the art of teamwork as the force that beats the odds. The story is beautiful and although it features fairies and an unusual magical setting, the dialogue, and the emotions it evokes are so real that readers will easily relate. Lilly, Boris, and Jack are very likeable characters and readers immediately are curious as to whether their wishes will be granted by the stars — or if their hearts are pure enough for them to locate their stars in the first place. Amanda M. Thrasher's writing is beautiful and imaginative. I loved how she creates a task and then puts an obstacle in the way of the characters. Mademoiselle Francesca and the other cast of characters are compelling. Yes, this installment in the series offers a whole new world of magic for young readers to revel in.