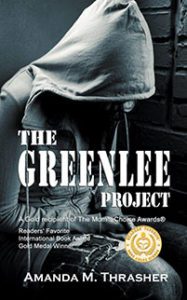 An Excerpt From The Greenlee Project
I'd rather be dead than climb those steps! Greenlee thought, staring at the grey concrete that would lead her to her final bout of humiliation. It was a given that life, at least as she knew it, was over! Why had this happened to her? She stared up at the looming dark grey doors of Aubrey Marcus High School. They were not a very welcoming sight, and despite her best efforts, her feet simply would not move.
Greenlee Lynn Granger by name, designated project by default. A ruined teenager and barely a teenager at that! Fourteen years old, just a normal girl, not one of the beautiful people in high school, but popular enough, if only in her mind. She wasn't as tall as she'd liked to have been, but hopeful that she'd have a growth spurt soon. With the usual multicolored wire-wrapped teeth, dishwater blond hair that she couldn't do a thing with, and big brown eyes, Greenlee Granger was just another average girl living in suburbia. Well, until now.
She'd managed to dodge Marianne, her best friend, on the north side of the school. Greenlee wasn't in the mood to talk, not even to her. She sat down on a bottom step that led into the school, wrapped her arms around herself, and blinked away the tears that had welled up in her eyes. Wiping her face, she made a split-second decision to leave the school premises. Greenlee gathered up her backpack and the jacket that her mom had insisted that she carry, and headed back towards the street. The consequences of this decision never crossed her mind. She left the grounds as quickly as she could. It would merely be a matter of time before the rumors, innuendo and the never-ending questions were asked, followed by the incessant phone calls. In her heart, Greenlee wasn't ready to face the world. Not yet.
"You have to get it over with, sweetheart. It's your first time back. It will take a little time, but we talked about this, remember?" Greenlee's mom had said that morning.
When her mom's so-called words of wisdom ran through her mind, all she thought was how much they sucked! Her pace picked up as she replayed her mom's unsound advice over again. It wasn't that simple, she'd tried to explain. This was terrible! Her mom had offered to drive her to school that morning and to discuss her first day back with the principal, but Greenlee had been horrified at her mother's suggestion. The image of her mom walking her down the hallway in front of everyone was too much and Greenlee burst into tears again.
"Seriously," Greenlee objected. "That's a terrible idea. I can't do that. They'll hate me even more than they already do!"  She softened her voice and said, "Mom, just please don't make me go back yet. I don't think I'm quite ready for this. Not yet."
But despite her objections, her mom pointed her towards the door.
"You have to do this, you have to be strong and stand up for yourself. Do this for yourself. It's what you wanted." Mrs. Granger had walked over and kissed her daughter on top of her head. "Greenlee, you've come so far. We're so proud of you. You don't realize it yet, but this, baby, it's the last step."
She'd hugged her and spun her around towards the door. "Greenlee, this is it, you've got to do this!" Her mother had declared.
Greenlee's eyes had been brimming with tears and she could hardly look at her mom. This would be the last and most painful step in this impossible situation that Greenlee would ever take. Her mom's heart had sunk as the tears had streamed down her daughter's face.
"I really, really, think I should go with you," her mother had said but she knew as soon as the words had left her mouth that Greenlee would object, and she had been right. Greenlee had shaken her head and left for school.
Why her mom didn't allow her to stay home one more day and wallow in self-pity, she didn't really know. Curling up into a ball and shutting out the world was the only thought that had appealed to her. Bed; she had wanted to go back to bed, and pretend that none of this had ever happened. Greenlee knew that this was impossible. She'd come too far for that. She would have to face them, all of them, and then it would be done.
The Greenlee Project Copyright by © 2014 Amanda M. Thrasher  All Rights Reserved. Library of Congress Registration Number TX0007885799
© 2021Amanda M. Thrasher Author's website AmandaMThrasher.com
The Greenlee Project is a Gold Recipient of The Mom's Choice Awards®. The Mom's Choice Awards® MCA) evaluates products and services created for children, families, and educators. The program is globally recognized for establishing the benchmark of excellence in family-friendly media, products, and services. The organization is based in the United States and has reviewed thousands of items from more than 55 countries. The world, parents, educators, retailers, and members of the media look for the MCA mother-and-child Honoring Excellence seal of approval when selecting quality products and services for children and families.
The Greenlee Project is an International Readers' Favorite Gold Medal Award Recipient. The International Readers' Favorite is one of the largest book review and award contest sites. They have earned the respect of renowned publishers like Random House, Simon & Schuster, and Harper Collins, and have received the "Best Websites for Authors" and "Honoring Excellence" awards from the Association of Independent Authors. They are also fully accredited by the BBB (A+ rating), which is a rarity among Book Review and Book Award Contest companies.
The Greenlee Project was award first place winner of the YA and General Fiction NTBF award. The NTBF, North Texas Book Festival, assists schools and public libraries with literacy programs in North Texas. Since its inception, it has awarded more than $45,000.00 in grants to deserving programs.