When Inspiration Strikes You WRITE Back!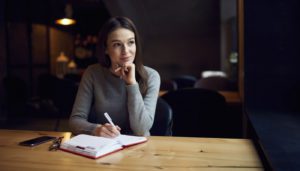 Like most authors, before one project heads to layout, the next novel I'm going to tackle is already being planned in my head. Sometimes it's even wholly mapped out, storyline, characters, and plot twist, the works; while others are merely ideas written down. Either way, the next project or two are well defined. Most writers pride themselves in knowing what they're next WIP is going to be (work in progress). But what happens when a new WIP sits before you, outlined, the characters all named and in place, timeline set, the first couple of chapters started, and all of a sudden another idea consumes your thoughts? Well, when inspiration strikes, you have no choice but to write. The question is, how? Many writers, when faced with such a situation, do one of two things: 1) abandon their first novel and set it aside for a later date. 2) write two pieces at the same time.
Now, I'm not opposed to writing two books at once, but I have to be conscious of my time and mindset. Time is limited, and one's mindset, while you write, is an important factor or at least it is to me. Writing two different genres can be an issue. For me, do I lose myself in a fantasy piece, which is absolutely a wonderful thing to do, and still have enough time to pull my mind back into the throes of an emotional reality piece?
Who doesn't love to escape, if only in their minds, to a timeless world hidden deep in Lafayette forest, explicitly created for Lilly, Boris, and Jack, and all of their friends? The colony, filled with beautiful fairies, who continually watch over each other all the while having exciting adventures. Sound sweet and fun? It's designed to be that way – The Mischief series. A fantasy series developed for young chapter book readers.
While the fantasy world is quite delightful, often a fast and fun 'write,' it is the other novel that I believe would present a problem for me. It's an NA (New Adult 18-30 +) bracket; the storyline emotional. With time continually an issue, pulling myself from a fantasy world mindest into a dramatic/emotional state of mind to write the scenes, dialog, and narration, that the characters and stories would demand can often take me a little while to transition. I find it necessary to dive into my head and become a part of the story to visualize what I'm about to write down to 'see' the emotion that my characters need. From fairies to where I'm going, serious NA, it could take more than a minute to get there. Do I have that kind of time to prepare my mind?
I know some authors do this all the time, write multiple novels at once, without any issues. I'd love to be one of those talented authors. But I know my limitations regarding time, and what it takes for me to prepare my mind to write the way that I do. Add the research required for the project that is currently consuming my mind, and trust me, I'm not sure I could pull off my best work. Again, due to busy work and life schedule, time is not on my side. Every author wants to produce quality work. To me, the quality of my work will always be more important than the quantity or amount of books I produce at one time. It's only natural that writers evolve and the work improves with each novel, and I get that, but I do not want to sacrifice quality for speed of content.
So what will I do? Believe it or not, chatting about it here with you has really helped. I can't get the current storyline out of my head for the NA, and the only way to alieve that issue is to start writing it. I do have more than one project outlined, and even have one started, but like most writers, I love them all. Will the other projects get written? The answer is yes! What will the timeline be on those? The answer is when they're completed. One WIP is not more important than the other; it just happens that one is nagging to be written more so than the other in this particular moment.
As much as I would love to whip out novels as fast as other writers, I know that I can't. Family and work are real factors that take up the vast majority of my time. My writing schedule is vital to me, and I continue to write and share what I do, but my family will always come first. My books will get written. They'll still be available, and maybe I will challenge myself to write both pieces this go-round. For now, it looks like the NA will come first, but perhaps I'll dabble with both projects and try for the fun of it to write them both. The key is to write them well! The greatest thing about being an author – doing what you want in regards to the work that you produce, and that is always fun! Thanks for reading this if you do, and allowing me to chat this over with you. Keep writing your way, and everything else will eventually come to fruition.
Feel free to visit my website and check out my work: Amanda M. Thrasher 
Copyright © 2019 Amanda M. Thrasher