Read fan comments from various followers and institutions in regards to Amanda M. Thrasher's works and special appearances and workshops.
The Greenlee Project by Amanda M. Thrasher – The Greenlee Project is a captivating fictional story addressing critical real-life issues that tweens and teens face today. Bullying and cyber-bullying are part of our society today that has had tragic consequences for many.  Amanda Thrasher, is a talented author, who has delivered a story that is both compelling and also thought-provoking.  You can feel the emotions of each of the characters as the story unfolds along this journey. It will leave you with the desire to change the world around you and to talk to others about the increasing severity of bullying and cyber-bullying. With the discussion questions included, this is an excellent choice for  book-clubs and middle school language arts classes. Such a critical and important story. – Lisa Robinson, CFLE, OK

The Ghost of Whispering Willow by Amanda M. Thrasher – will capture middle school and older readers with its fast-moving plot and likable characters. Suffused with warmth and love, it provides a theme that is largely missing in the world of books but sorely needed. Two best friends learn to accept the cooperation of four girls as they attempt to befriend the ghosts they think they have sighted. The success of their efforts puts the kids in the middle of an intense battle they never could have envisioned. All is achieved without the direct help of parents, making the children learn resourcefulness.
The plot is well constructed as it is paced intelligently and maintains the reader's interest. One element of the clever crafting can be found on page 124: it is the very middle page of the book and on it the major turn in the plot occurs. I first discovered this middle page phenomenon in the French author Pierre Loti, in his novel Pêcheur d'Islande (Iceland Fisherman). The main character's younger brother, who had been injured in Viet Nam is returning to France on a hospital boat, but dies precisely when the boat passes the Equator on the longest day of the year, at the moment the sun dips under the horizon, at the middle of the world in the middle of the year, precisely at the middle page of the novel. I thought it was amazing, maybe unique. But years later, I found in Umberto Eco's The Name of the Rose what is most central to the theme of the book happening on the very middle page and I have found something similar in a few other books. This is the mark of a writer and I have found it again. Some of the most solid literature these days is being written for children and teens. The Ghost of Whispering Willow joins the list. – David A. Bedford, Ph.D. Instructor of Spanish- TCU
www.allbookreviews.com  
---
Genre: Children's  Title:   Sadie's Fairy Tea Party

Sadie has a fairy friend named Violet, who visits when everyone else is asleep. Violet has a talent for fixing things with her fairy dust. She prepares a lovely tea party for Sadie with Rose Hip tea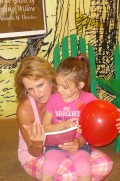 and Teacakes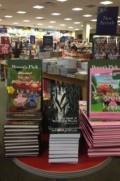 and Sadie is very impressed. She is surprised when Violet gives her a fairy friendship gift. The moral of the story is kindness, appreciation and friendship, all very valuable life lessons The story is short and very sweet with enchanting illustrations. At the end of the story is a question and answer section for parents to ask the child. This encourages listening and comprehension and is a definite asset to the book. This is followed by a coloring section and an activity page, where the child can be involved in making a lovely craft. I know my granddaughters will love this little book. Highly Recommended by Reviewer:  Shirley Roe, Allbooks Review Int. www.allbooksreviewint.com
---
Dear Amanda,
My name is Jeremy McNair,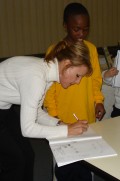 and I am the Site Director for the YMCA program at Butler Elementary School. This past Monday, you came and spoke to my students about your books and the writing processes behind them. The past two days since then have been completely filled with the kids telling me how much they learned from and enjoyed your presentation. I wish I could take the time to tell you every story, but I've typed up several of the letters that they've written to you and copied them to the end of this email. Your drive and passion were well received and noted by all the children and staff, and I know that your impact will resonate in a huge way in all of their lives. Thank you so much for your dedication to your craft, but even more than that, thank you for sharing it with the children at Butler. They were left truly inspired.
– Jeremy McNair
---
Amanda,
I wanted to thank you for your visits with our students. Your words definitely had an effect on our kids. They have been so energized since your visits. Personally, my daughter Cailey was inspired by your work. She was on line last night researching you and talking about your life and story and how she wanted to be a writer someday.
Thanks again for providing inspiration with your work.
Mike Cobb
Head of Middle School
Director of Summer Programs at Oakridge
---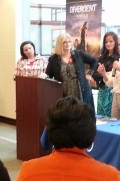 I want to thank you again for visiting Ashworth. The kids were still talking about it the next day. I'm sure you have inspired some future writers. I hope your new book goes well – looking forward to reading it.
Patty Pardue
Ashworth Elementary
Teacher/Librarian
---
Ms. Thrasher,
I just heard your presentation to one of our grade levels and I am so inspired! I grew up loving to write and writing silly stories about our family. My life long dream is to someday publish a children's book. Thank you for speaking to us about the writing process and your encouragement!
Lucy Vasquez
Parkway Elementary
---
Exciting News: Barnes and Noble, Inc. Small Press Department