I wear dual hats as a writer/ author and publisher. It's not always easy, but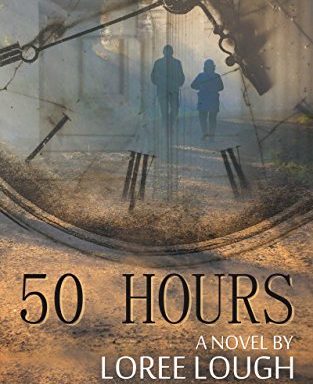 I've learned and continue to acquire new knowledge in this ever-changing industry of publishing. When I write, I can't wear my 'work' hat, it ruins creativity. And when I work, I can't write. It's not unusual for hundreds of manuscripts to end up in my inbox. If I choose to send them out for review, that will be the deciding factor if we take them on. I see a lot of pieces, and we have talented award-winning authors on our label, but I can honestly say few pieces are written as beautifully as 50 HOURS by Loree Lough, and that's the truth.
50 HOURS
FRANCO ALLESSI is a broken, lonely man who wants nothing more than to outrun the ghosts of his past. For years, he tries to numb the pain of his wife's death with cheap beer and whiskey. When he's convicted of drunk driving, the judge revokes his license for six months and orders him to serve fifty hours of community service. Franco chooses Savannah Falls Hospice for his community service, for no reason other than it's walking distance from his dilapidated house trailer.
On his first day on the job, he meets AUBREY BREWER, a woman whose time on earth is quickly ticking to a stop. Their unusual connection teaches powerful, life-changing lessons about friendship, acceptance, and the importance of appreciating that precious treasure called life.
Now, the endorsements (we have too many to list) for this book speak for themselves; I get it, it deserves every one of them. Catherine Lanigan, Author of Romancing the Stone, The Jewel of the Nile, and over forty-five novels and non-fiction, said, "I defy anyone to start the beautifully written 50 Hours and to put it down or to go on with their own lives as they had before reading about the remarkable, emotional and insightful relationship between dying Aubrey and the lost Franco. As a recent widow myself, the strength, humor and respect between the main characters shot close to home, but delivered so much hope and love that even as I march forward to tomorrow, my perspective has altered—all to the positive. In her last days in this life, Aubrey finally lives out the dreams she's been too browbeaten by her mother and ex-husband to accomplish. She can only do this with help from Franco, who risks imprisonment to see her wish come true. Emerson said, "To know even one life has breathed easier because you have lived, this is to have succeeded." Aubrey and Franco succeeded. Believe me when I say, THIS IS THE KIND OF BOOK THAT WINS PULITZER PRIZES. "
The main character, Aubrey, is ill, that silent killer, cancer. Cancer destroys or touches too many families in the world, let alone our country. My mom died of cancer, too young, but once diagnosed she didn't last long. When I read the book 50 HOURS it was inevitable, I was reminded of what she went through and what we went through as a family. But I've always wondered what she was thinking, secretly, when she wasn't trying to put our minds at ease.
Aubrey, a character of strength, hope, determination and sharp wit, dares you to take her journey with her and see and feel what she's feeling through her eyes. But not in an emotional roller-coaster draining sort of way. She is the perfect definition of courage. Fearless at times, vulnerable at others, but always positive and selfless. She helps Franco, the recovering alcoholic serving time in the form of community service, who inadvertently helps her. Together, they're the perfect team. Knowing what I know, about cancer, having experienced it with my family, it was touching to read it through Aubrey's point of view. To take her walk with her, the walk. Knowing the diagnosis and how Aubrey really felt at times, was insightful. I think my mom, like many sufferers, think of those around them most. I was able to 'see and feel' things through Aubrey's eyes.
It is undeniable that authors often bond with their characters while creating them; after all, it takes time and energy to develop fictional beings that a mass audience can relate to in the novels. When they tackle subjects that affect millions of people daily, be it illness, death, addiction, poverty, etc., it's not unusual for authors to conduct extensive research to ensure the accuracy of the details that they write. Back stories, depth, facts, characteristics, and ultimately the feelings that bounce of the paper and touch people, emotions, must be believable. However, it is shocking when life unexpectantly imitates art. I was stunned, but can't even begin to imagine what Loree must have felt, when I found out that the she, the author, was diagnosed with the illness that her character had while writing the novel.
The research that she was conducting to develop her character, Loree was suddenly applying to herself. Aubrey, the character terminally ill, and now the author, Loree Lough, found themselves in the same position. Healthy when commissioned to write; diagnosed while half-way through the novel. She was living out Aubrey's nightmare. Surely it was impossible to divide the two emotionally at times. How did that happen and why? I can't even begin to fathom it.
Multiple Myeloma, incurable bone/marrow cancer. I can barely say the words, and I couldn't even begin to imagine completing the novel as beautifully as she did, knowing what all she had endured. Talk about a time to write. How did she do it?! A time to write. Writing from within; seamlessly, and beautifully as one with Aubrey at times.
It is no wonder that Aubrey leaps off the pages and into your heart. Loree's heart and soul can be found in between the lines. This novel will touch people not just because of the terminal illness, but because of the life-lessons that Aubrey teaches Franco and Franco inadvertently teaches Aubrey. Inspiring hope in the midst of despair, reminding us of what is truly important in life. I honestly believe that this novel was meant to be written and meant to be written by Loree and shared. The screenplay had been stashed for years. Pulled out. Re-filed. Why now?
Loree Lough's 50 HOURS is a poignant story that reminds us how precious life is, especially if our world has been turned upside down by cancer. But don't be fooled: This novel will leave readers feeling hopeful, no matter how hard the dreaded disease has hit them. ~Jack Watts, award-winning author of 16 books, including "The Moon" series and Creating Trump Nation.
Loree has graciously discussed her treatments, some experimental, some traditional, and is willing to visit openly about her diagnosis, treatment, and the development of Aubrey (character), and this novel. She can be contacted via social media, her website or right here: contact@progressiverisingphoenix.com
A portion of Loree's royalties from her 100's of best-selling novels, go toward cancer research and other charitable organizations.