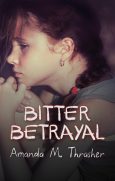 I've recently finished my new YA titled BITTER BETRAYAL. Like any piece that a writer completes some will love it, some hate it, some like it, some agree with it, and some will disagree with it. Every person is entitled to their thoughts, but my hope regarding this piece is that my audience receives the important message impressed on me to share while still being entertained through the actual story line.
I have raised a son and still have teen girls living at home, fourteen nearly fifteen, and sixteen, almost seventeen. One an artist, introvert, and the other an athlete who is always surrounded by other teens. Our house is that house, the one where kids often hang out. I don't mind that; it means I know where my kids are, and that brings me peace of mind. It also gives me a chance to talk to and listen to them. Good kids. Great families. Solid community. But the stories that I hear over and over again, from the teens and teens that I interview, are horrific. Knowing some of the parents, like me, they likely have no idea how certain things affect our kids. But listening to them as they tell the same stories/scenarios, different kids, over and over, is shocking.
As usual, a lot of it revolves around social media and the pressures that kids face daily. Surprisingly we rarely talk about how desensitized kids are today. The things that shock ordinary people don't faze teens at all. Sending nudes to strangers, acquaintances, or boyfriends when asked, most parents think their kids would be too smart to do something so stupid; they'd be wrong. Impressionable teen girls do this on a daily basis, and when I ask them why, the answers are always the same. "Because he asked me too, and he said he wouldn't show anyone." I always ask the following questions. "How well did you know the boy?" And, "Did he share the pictures?" As expected the answers are heartbreaking; they often hardly know the person at all, online relationships formed through snap chat, twitter, and whatever else they're using. Yes. The pictures had been in their words "sketched" which means shared. "Did your parents tell you about the dangers of social media and sending pictures?" And of course, they knew better and had been warned multiple times via parents, school, and what they've talked about amongst each other. It's not the bad kids that get caught up in this behavior, it's the kids you go to church with, have over for dinner, and play football or cheer, good kids, "Why did you do it?" Their answers as a parent first and foremost are disturbing and concerning, as a human being, terrifying as they often say the simplest things, "I don't know." Or, "Because he asked me to do it." Or my favorite, "Everyone does it." It's not uncommon to find girls sending pictures unknowingly to the same boys. Being played.
Topping off this disturbing behavior is the fact these kids are often, for lack of better words, blackmailed and harrassed. Once the guilt sets in, after they've sent the pictures that they shouldn't have sent, then the boy(s) often older harasses them to get more pics., often more revealing by threatening to expose the girl. The girls crumble doing one or two things: breaking down and sending more, telling their friends or someone they can trust, and blocking the person(s) until someone is suspicious and the harassment becomes public, and everyone knows who sent nude pics.
Instant communication is another factor that affects teens. I'm not a doctor by any means or a psychologist, but teens take on entirely different personalities when they're in love (think they're in love), and have the ability to instant communication at their fingertips. Girls and at times boys, waiting on those instant messages, conversations, snaps, has made some of them semi-obsessive. It, the social media, can make them frantic. Girls will fight with other girls publicly over boys, calling each other terrible names, and the war of words in the social media realm begins. Strangers get involved, reputations are drug through the mud. It becomes a mess of words. I've personally witnessed these things unfold right before my very own eyes and have had several teens discuss them openly with me and share their stories. Dangerous situations, impaired judgments, drugs, drinking, social media mistakes, obsessive behavior, all revealed in the social media realm. It's a scary world.
What's shocking to me is how little, we as parents, know about our kids. We think we do; every parent believes that they would know if something terrible was happening under their roof. It's sad; the truth is, most don't until it's too late and once the damage is done, clean up begins. What's the answer to the social media madness? I certainly don't have one, but I am aware of the problem that surrounds our teens. All we can do is stick together as parents, be alert, and open to listening to what the teens are saying. The best advice that I can offer to help with awareness regarding this issue is don't be naive; it could be your teen. It can happen under your roof. Your kid can be that teen, the one that sends the nudes, drinks too much at the party, causes the fight, starts the rumor. Teens on social media; scary stuff, be alert.