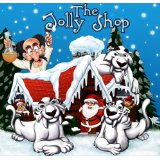 I rarely review books for authors; it's a personal thing, but every now and then when I'm asked, I will. A friend and colleague of mine asked me to review his new book, and though I accepted, time wasn't on my side. My fellow author waited patiently and to his credit, graciously, never said a word about how long I was taking to fulfill his request. Eventually I had a break in my schedule and I purchased, downloaded, read, and finally reviewed his book. I was pleasantly surprised and thought I'd share.
Christmas stories are often similar in themes, true?  I admit that I had a preconceived opinion, I did, I admit it.  I thought that the book  likely had the typical 'feel good' Christmas story line, but I was wrong.  This book did bring to the table what a Christmas story should, the meaning of Christmas, but in a refreshing new way.
The Jolly Shop By Walter Lee, is a tale about kindness and the spirit of Christmas, believing without seeing, and it even delivers a message about the importance of teamwork. Cringe, the mad scientist, discovers that the true meaning of Christmas is about giving and not receiving, mad scientist, who would've thought?
The illustrations are bright and colorful, the easy reader format is perfect for all young readers and parents will enjoy reading it to their little ones.  I was especially touched by the beautiful dedication that honors the men and woman who serve our country, a few were mentioned by name. If you're looking for a new take on a Christmas book, check this one out. http://amzn.to/Zc2nPx
Amanda M. Thrasher